When it rains it pours and this weekend was exactly that!

Friday I received a call from school stating Enzo had a fever.

I picked up the kids and off to the Doctor we went.

They swabbed him for the flu and strep and both were negative.

They concluded that he had bronchitis and would need 10 days of antibiotics.

Friday night he was up off and on all night due to the fever spiking and him not feeling well.

His fever continued until Sunday afternoon.
Saturday evening my parents kept the kids overnight as Brian and I had his work Christmas party.

We had a great time at the party but little did we know while we were at the party there was a tornado in our city and the path of the tornado was eerily close to us.

Luckily we suffered no damage.
Sunday we picked the kids up from my parent's house then headed home.

Once home both kids seemed fine and we spent the afternoon outside playing.

Around dinnertime Addison started to say she wasn't feeling well.

I checked her temperature and she had a fever.

We gave her some ibuprofen and off to bed she went.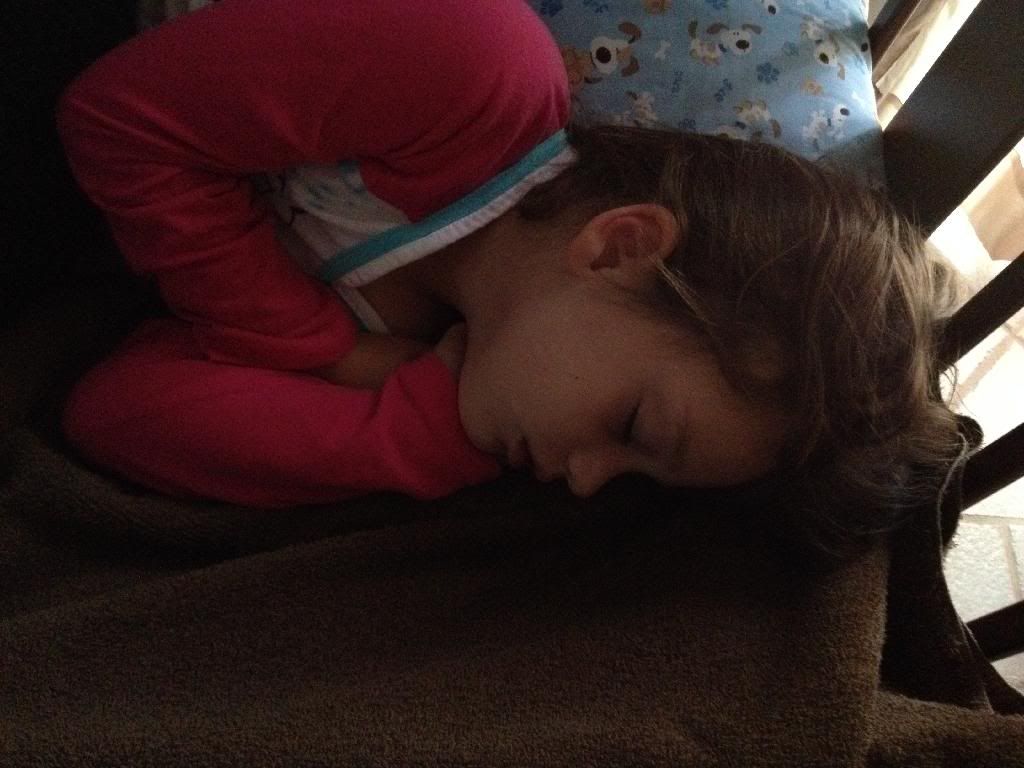 The toddler bed that neither child uses got lots of use this weekend.

We decided to move it into our bedroom so we could monitor the kids while they were sick.

Enzo used it Friday evening, then Sunday night Addison slept there and was up every 2 hours vomiting.

I was convinced it was the flu as she had chills and a high fever.

I took her to the Doctor this morning and she threw up twice in the waiting area then three times in the exam room.

We ended up staying there for a little over two hours.

The Doctor swabbed her for the flu but it was negative.

Then she looked at her throat (back story – she just ended antibiotic a week ago for strep) and her tonsils were bloody, swollen and have an ulcer on them.

The Doctor was concerned about dehydration from her vomiting over 10 times in the last 12 hours so they gave her some liquid Zofran…she threw it up within seconds.

The Doctor then called the Senior Doctor at their other location to consult about next steps.

They decided to give her an injection of Zofran and if she throws up within 2 hours of the injection that we are to go to the hospital.

She slept almost the entire time we were there.

We waited in the exam room for 45 minutes after the shot to ensure she wouldn't be sick again.

They gave her some Motrin since she's had a fever for over 12 hours that was untreated due to the fact that she wouldn't keep anything down.
The conclusion is that they believe her strep is back and the first round of antibiotics didn't work.

They didn't swab her for strep since her tonsils were bloody and she has an ulcer on them. They said they would give her antibiotics either way so they didn't want to irritate her throat even more. We are to take her back tomorrow morning for a re-evaluation to determine if it is strep or adenovirus. They want to ensure her condition doesn't worsen and they also want to monitor the swelling and size of the ulcer on her tonsils.

I'm certain 2014 will be the year she will have her tonsils removed.

As much as we don't want her to undergo surgery, it's so heartbreaking to see her so sick.

She's been lethargic and pale…our poor baby!
The Motrin finally kicked in from the Doctor's office so she's napping peacefully now.

Praying she gets well soon!