Today was Enzo's one month appt. Since one month fell so close to the holidays today was the soonest we could get an appt.
His 5 week stats are:
Weight: 11lbs 6oz (90th percentile)

Height: 22 3/4 inches (90th percentile)


Head: 15 1/4 inches (75th percentile)
Birth Stats: 8lbs 15oz, 2o inches
He received his first Hepatitis B shot since we never received one in the hospital. The Dr also put silver nitrate on his belly button because it had some drainage and granules. The Dr checked Addison's ears while we were there and her ear infection is cleared up.
Enzo is such a good baby. He was sleeping 18 hours a day until a few days ago. He is so content and rarely cries. He is waking up once a night and goes 5 hour stretches of sleep during the night. We've seen a few smiles out of him and they are the sweetest things ever! When you talk and interact with him his eyebrows raise up and he starts wiggling and moving his arms and has started to coo in response. Love it!!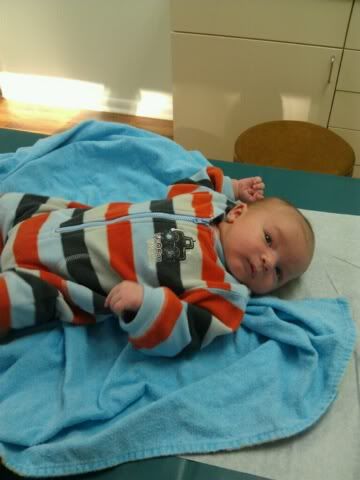 Mobile Pic taken at the Dr's Office